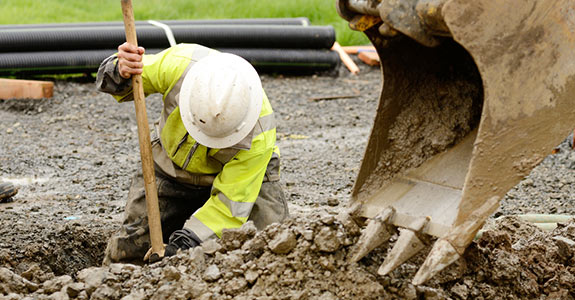 If you're developing a commercial tract of land, it pays to invest in proper excavation and land preparation in Dubuque, IA before the project truly enters its construction phases. Why? Because properly cleared, graded and prepared land is going to serve as the base for a solid foundation and everything atop it. Moreover, when it comes to utilities, lines and the like buried deep under ground, these things need to be perfect to ensure setbacks are mitigated to their fullest.
At Drew Cook & Son's Excavating, we've made it our mission to provide unparalleled commercial excavating and site preparation to Dubuque, IA, for virtually any commercial project you might need. We're on hand to do it all to the best level of quality possible—take a look at just a few of our core services:
Parking lot grading
Under ground utility installation and removal
Site preparation
Ground leveling
Septic system installation and repair
Land grading
General excavation
Foundation preparation
Supply top soil
Hauling
Rock hauling
Trucking
Part of what makes Drew Cook & Son's Excavating such an appealing choice for many construction firms and development companies is our tremendous depth of experience when it comes to commercial developments of all types and sizes. Whether you're paving a parking lot or require land preparation in Dubuque, IA for something as large as a shopping complex, know that we're familiar with what's required to start the project off right.
Don't forget, we also offer trucking and materials hauling as part of our excavation services! We're dedicated to providing a job well done in any capacity.
For more information about our commercial excavation capabilities or to learn more about our approach to site preparation in Dubuque, IA, please don't hesitate to contact us today by calling 563-582-9292.